Uniq Estates
UNIQ Estates specializes in assisting foreign buyers in their search for their dream home in Spain. Our many years of experience make us the perfect partner to guide you. You can also count on our team after the purchase, because we guide you through the entire sales and aftersales process in your own language. Start your search today. Together we will look for the perfect property at the perfect location!
More about us
UNIQ Estates wins Huizenjagers Buitenland 2022!
After a fantastic week of house hunting, Serge has won the title of best house hunter in the Play4 tv show 'Huizenjagers Buitenland'.
Together with two other real estate agents, he went looking for the perfect dream home in Spain for four Belgian couples. He received in total the best scores from the candidate buyers for his selected properties on the Spanish coast.
Did you miss the episodes? Be sure to take a look at the link below.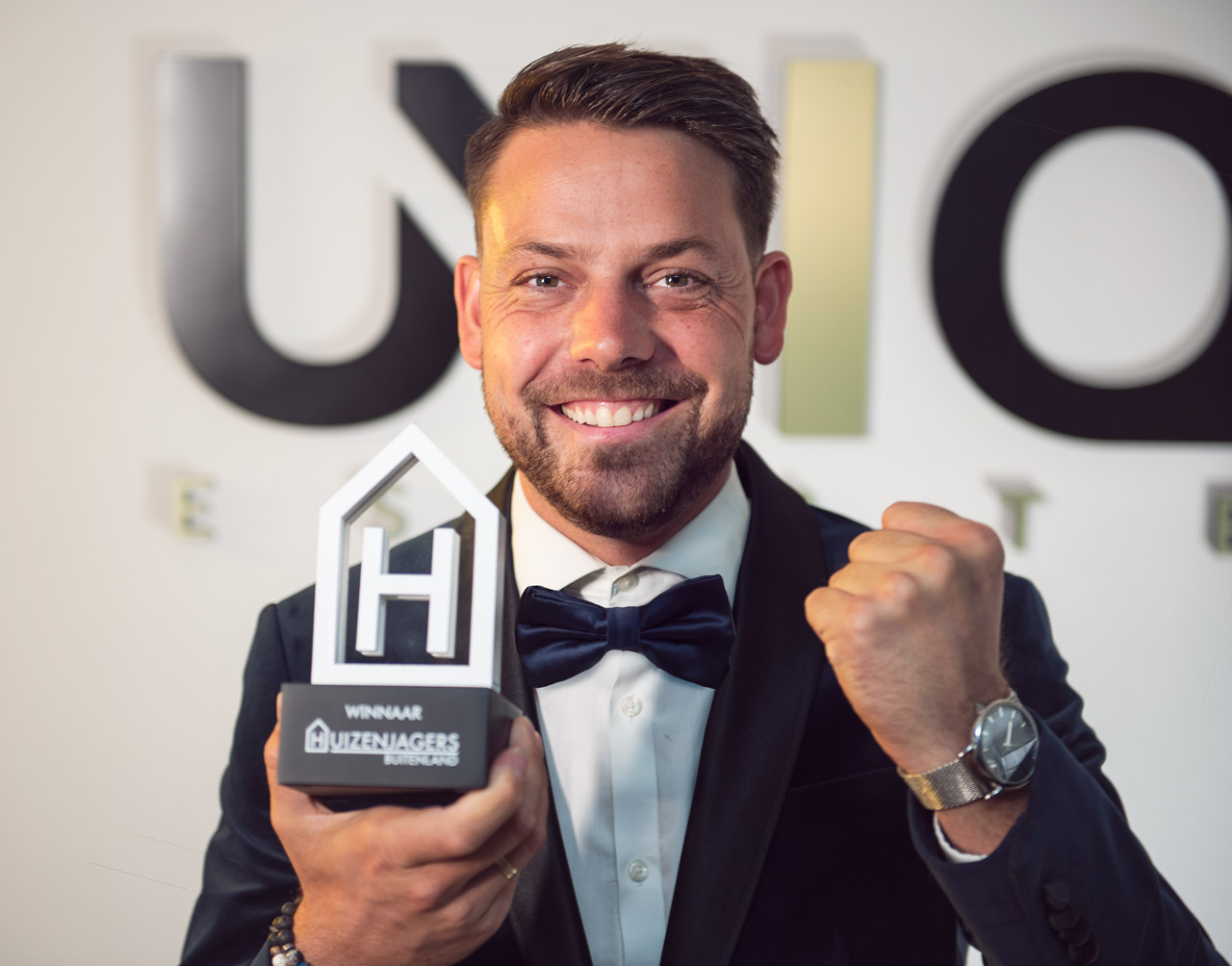 Never give up your dream
The regions we cover
We offer real estate at the best locations in Spain for every budget. Our offer consists of fantastic modern villas, apartments with sea view or golf properties and is updated daily, so that our customers are always up-to-date with the latest new projects.
Viewing trips Spain
Visit the homes of your dreams
Are you looking for a second home in Spain? Buying a house in Spain is a big decision, but with UNIQ Estates you are in safe hands. During a three or four-day viewing trip to Spain, we introduce you to the environment and the projects selected together with you. You'll get to know all the nicest spots & projects!
In addition, we explain the financial and tax aspects of purchasing a second home in Spain. During your stay you will stay in a luxury hotel on the Costa Blanca or Costa Cálida and you will be accompanied by one of our English-speaking real estate advisors who live in Spain site with many years of experience. A viewing trip is the best way to find your dream property in Spain.
Next Event
Tapas & Casas info weekend
10/09/2022:
9-18h
11/09/2022:
9-18h
Discover Spain: enjoy our typical Spanish tapas and wines during our 'Tapas & Casas' info weekend. Our real estate advisors are ready for you and are happy to share with you the latest new projects and information about the purchasing process of a property in Spain.
UNIQ Estates kantoor, Schoten
Discover our free spain buyers guide !
At UNIQ Estates we want to help you to find your dream property in Spain. That's why we designed a free "Spain Buyers Guide" where you'll find answer to all your questions. It consists of loads of tips and tricks, the purchasing process, taxes, different regions, climate in Spain, fun facts and much more.
Customer stories
UNIQ Estates is the favorite real estate agent of many Dutch, French and English-speaking Spain lovers on the Costa Blanca & Costa Cálida in Spain. Below some testimonials from our clients.

Lynn M. - Steve G.
Belgium
At UNIQ Estates you are not a number, but you can count on a personal service by 2 young gentlemen who really guide you from start to finish so that you don't have to worry about anything. An absolute must for anyone looking for a property in Spain!

Philip V. - Daisy V.
Belgium
We were also well received by Stijn in Schoten and received solid and correct information. After that, communication went like a train between us as a customer and UNIQ Estates. Once in Spain we were helped by Serge in a very professional manner. Not pushy, not selling, but in a very pleasant, reassuring way we searched for the perfect apartment in Spain.

Antonella V. - Angelo L.
Belgium
Our dream came true and this thanks to UNIQ Estates. From the first meeting, our gut feeling said it was all right. We have been shown around and our wishes have been respected. I can only say one thing: should you ever think of a second home, call on UNIQ Estates.

Dorien B.
Belgium
I can only recommend these 2 top guys, they guided us well in the purchase of our holiday home. The service in both Belgium and Spain is super good and they are very professional and committed to their job. Thank you for the great days in spain.
How can
we help you ?
Contact us for a personal follow-up
You dream of a second home in Spain but you don't know how to get started? Have you seen a property that you would like to visit? Would you like to make an appointment at our office for a personal meeting? Feel free to contact us without obligation.